With the arrival of summer, the opportunities to eat away from home are multiplying for many, especially to go to the beach, the swimming pool or the countryside. For this reason, from Aguinamar, the modern fish market brand, they offer three recipe ideas with seafood that They cannot be missing in the tupperware of the summer stage, because they are easy, rich and healthy.
In the same way, these are ideal recipes very healthy and cheapsince they are an invitation to eat properly, without spending a lot of money or resorting to so-called junk food.
In other words, this type of dish will allow you to fill your Tupperware containers and go out to enjoy your vacation, without the added concern of having to spend more time and money on meals, even when they are consumed. outside.
Thus, as the Aguinamar experts pointed out, after having quick and tasty meal ideas which allow us to alternate these escapades in summer and not to leave the usual food routine, will help us"maintain a balanced diet without exceeding our pocket".
In accordance with the latest study by Aguinamar, which with its range of dishes helps to make cooking the least of our problems, andl 75% of Spaniards usually consume prepared productsYes one in two would eat more seafood if they had more recipe ideas.
According to their own analysis, taste and health benefits are the main reasons why Spaniards eat seafoodfollowed by ease of preparation.
On the other hand, they reiterated that it is very easy to maintain a balanced diet.
Although today we bring recipes that have seafood as their center, specialists talk about quinoa salad, cold zucchini soup or gazpacho, as other excellent dishes to accompany a day at the beach.
In any case, precisely gazpachos, salmorejos or salads, for example, are dishes that contain a significant amount of vitamins, potassium and fiber, due to the tomato and extra virgin olive oil . In addition, they are refreshing options that hydrate thanks to the fact that 90% of vegetables are water.
The Aguinamar product line also makes it possible to prepare delicious and healthy dishes that retain all the flavor, quality and texture of any other seafood product. ready to be consumed at any time of the day.
Tomato carpaccio with mussels and capers
INGREDIENTS
100 grams of fresh tomatoes
100 grams Aguinamar mussel
virgin olive oil
10 grams of arugula
Salt
10 grams of capers
5 grams Modena vinegar reduction
ELABORATION
Wash the tomatoes and cut them into thin slices, arrange them all over the bottom of the plate, salt and set aside.
Separate the flesh of the mussels from the shell and set aside.
On the other hand, place the capers and mussels on the tomato in a decorative way so that it is well placed, together with the rocket leaves, when serving, season with virgin olive oil and Modena reduction .
Stir-fried vegetables with shrimp tail and sesame
INGREDIENTS
80 grams of garlic prawn tail
30 grams of fresh chives
6 wild asparagus
20 grams of red pepper
20 grams of green pepper
8 cherry tomatoes
5 grams of sesame
virgin olive oil
Salt
ELABORATION
Cut and clean the vegetables.
In a skillet with a drizzle of olive oil, sauté over medium heat so that they cook inside.
Once done, add the garlic prawn tails and, finally, the sesame on top.
Plaque.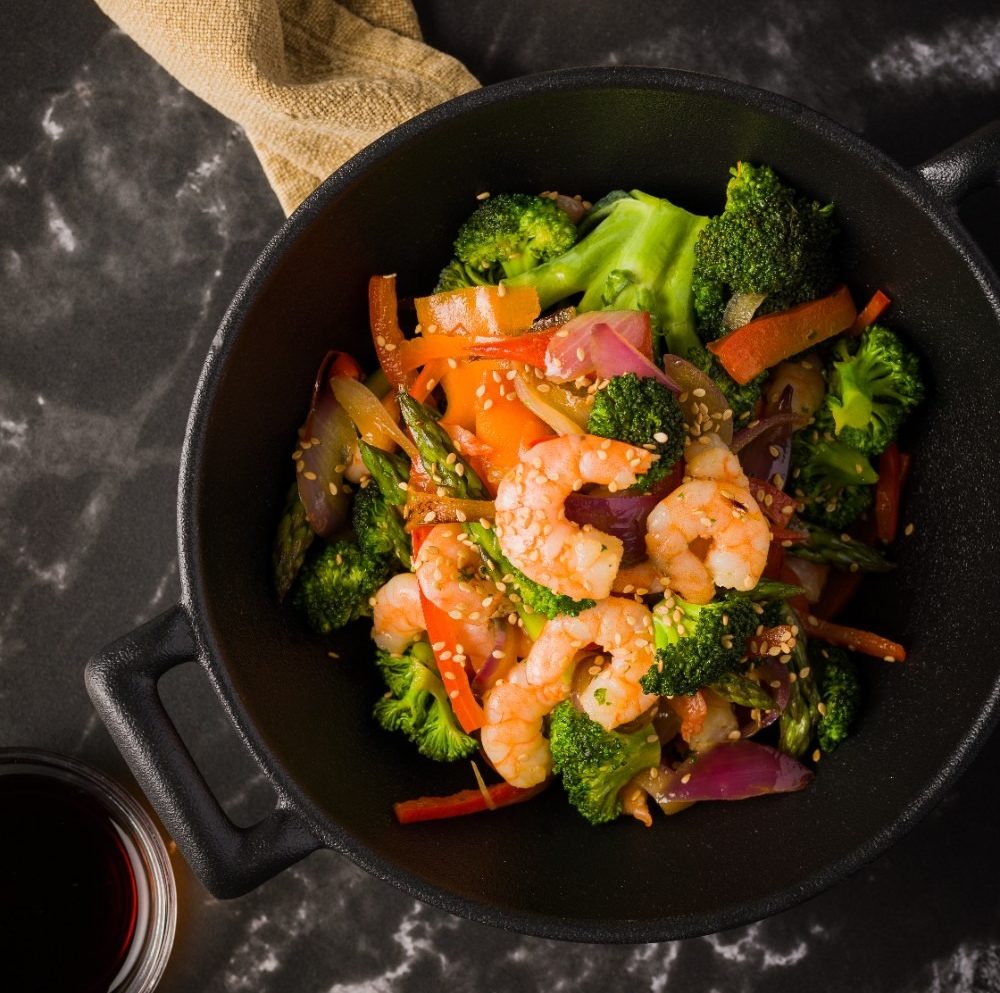 Vegetable mix with grilled octopus
INGREDIENTS
40 grams of fresh chives
30 grams of green pepper
30 grams of red pepper
6 cherry tomatoes
150 grams of Aguinamar octopus
virgin olive oil
Salt
ELABORATION
Cut and wash the vegetables, in a non-stick pan add oil and over medium heat sauté the vegetables, at the last moment put over high heat to give it the iron touch.
If done on the hot plate, sear the vegetables until they are colored then finish in the oven at 180 degrees for 5 minutes.
Cut the octopus into large pieces and fry in a pan until it takes on a color and is hot inside, add the previously sautéed vegetables and serve.