In Mexico we know that "If there's no chilli, it's not a complete meal.". We love to eat it in all kinds of sauces and seasonings, but there is one in particular that is delicious because you can eat it whole and it is delicious, meaty and very addictive! It is poblano pepper And although we love eating it stuffed, like in the classic capeado peppers or in the special peppers in nogada, there is nothing we love more than all these recipes with poblano pepper.
This type of preparations have a very particular flavor, since they mix perfectly the roasted flavor of poblano peppers with cream, corn and the rest of the ingredients they usually carry. They won't let us lie: they are addictive. With corn, with chicken, like Garrison or even lasagna. We invite you to try the rajas in all possible ways, butWe warn you to be careful, because once you start you can't stop..
Cream and corn rajas
personally i love it cracks with cream in all its presentations: in cubes, with a golden tortilla; in quesadillas rajas, warm blue tortillas with lots and lots of cheese. We share this simple recipe for rajas with cream and corn, a typical recipe of Puebla gastronomy. Your mouth will be watering before you even start cooking it.
Green spaghetti with creamy poblano sauce
This recipe is ideal to share with the family, because it is very creamy and not spicy at all. It is bathed in one of the typical specialties of the gastronomy of the state of Puebla, a creamy sauce with poblano pepper that we like to eat even in enchiladas, we can enjoy this delicacy with the roasted flavor of the pepper and the texture cheese and cream. Prepare this green spaghetti with a creamy poblano peppercorn sauce.
Green rice with poblano pepper
Are you tired of always eating the same type of rice? Just as there are white, red and even yellow rice, we can also prepare it green, prepared with a creamy poblano sauce that will give a very original flavor and color to your daily menu. Try this Poblano Pepper Green Rice.
Pulled chicken with chili poblano sauce
In Mexico there is a premise when it comes to looking for something new, whether it is a restaurant, a store or a gift, we like that it has the famous three Bs, whether it is good, pretty and cheap ; and when we talk about cooking recipes, I like to call them FER recipes, easy, cheap and quick, just like this recipe for pulled chicken with chili poblano sauce.
Poblano rajas and corn lasagna
It is a recipe that fascinates us with its flavor and simplicity. It is an ideal dish for those days when we want to cook without meat, a vegetarian dish but with all the Mexican flavor. We offer you a very tempting recipe with this lasagna with slices of poblano and corn which brings together one of the star ingredients of Mexican cuisine: the poblano pepper.
Chicken Milanese stuffed with poblano pepper, corn and cream cheese
This preparation has a very particular flavor, as it perfectly mixes the grilled flavor of poblano peppers with cream and corn; with the flavor we love in chicken milanesas. They won't let us lie: they are addictive. The combination it has with the Milanese flavor is unbeatable. Now stop imagining it and go make this Poblano Stuffed Chicken Milanesa.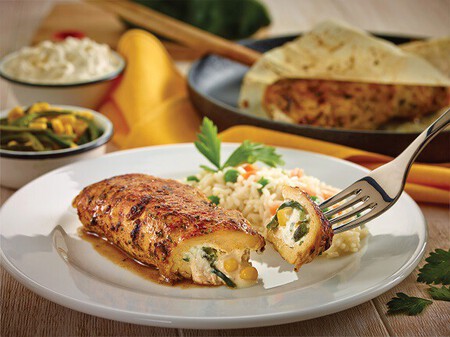 Poblano Pizza
There is nothing better than a delicious homemade pizza with the ingredients that we like the most. Likewise, we can let our imagination run wild and prepare it with the ingredients that we like and can combine. I offer a different twist on the pizza recipe with this Homemade Poblano Pepper Pizza that is very appealing to those looking for pizza alternatives that don't contain animal meat.
In Directo al Paladar México you can also read | 11 homemade recipes in Mexico to remember mom's or grandma's food | 11 recipes with shredded chicken. Super easy, efficient and quick to prepare | 13 recipes with ground beef that will get you out of trouble in the kitchen