Accommodation on the Costa Blanca including hotel group Magic Costa Blanca Hotels and Resorts, they continue to innovate to adapt their hotels and experiences to the tastes of all visitors. Of the total number of tourists who visit cities like Benidorm each year, the UK market remains fundamental, representing almost a third of travellers.
For this reason, hoteliers are looking for new actions that improve the experience of tourists in the UK. In this sense, Magic Costa Blanca, a chain based in Benidorm, is carrying out actions such as training sessions for its staff to expand the catering offer in its restaurants and buffets.
From August 23 to 30, Bart Van der Lee, renowned chef from the United Kingdom, is on the Costa Blanca to give different masterclasses to kitchen staff with the aim of improving training and service, especially for customers from the United Kingdom. United, as well as expanding the offer of dishes and recipes of the different 'Magic Costa Blanca' accommodations.
Chef Bart is a renowned haute cuisine professional who has worked in several Michelin-starred restaurants around the world. He currently offers online masterclasses, works as a private chef and was a finalist in the well-known show "Master Chef Pro" on the BBC1 television network.
Three days of training with different typical recipes
Van der Lee, through three days of training, which will take place at Magic Natura Resort and Villa Venecia Hotel Boutique, will create different recipes and dishes based on British culture and some of them will be integrated into the culinary offer of various 'Magic' accommodations.
Among the proposals will be live cooking demonstrations with typical dishes with a modern twist such as fish and chips, sausages and mashed potatoes with Pedro Ximénez sauce, roast beef with onion and black beer sauce or sirloin Wellington and other more exclusive options for hotels in the 'All Exclusive' range such as poached lobster in champagne sauce or roast lamb with port sauce. Bart will also offer advice on British desserts and sweets to hotel chain staff; masterclasses that will be recorded on video so that all Magic Costa Blanca workers can access them.
All dishes have been prepared according to a combination of tradition and innovation, incorporating top quality products such as Port sauce, Bordeaux wine or vanilla pods in representative sweet and savory recipes.
Van der Lee's visit is a great opportunity to introduce the Costa Blanca to the UK market, since the chef and 'influencer' will stay in Benidorm for a week and carry out different actions such as interviews and publications in places such as social networks. On the other hand, having this renowned chef with experience in Michelin-starred restaurants on the Costa Blanca will allow the hotel group's kitchen team to hone their culinary skills and improve and expand the entire range of restaurants in chain ; a new training action in the region.
The Magic Costa Blanca kitchen team and Van der Lee expressed their satisfaction after the completion of the first two masterclasses; an enriching day for both parties during which kitchen staff from different hotels and resorts were able to meet new techniques and dishes from the UK. The chef exchanged tips and experiences on local and international cuisine with professionals from different Magic Costa Blanca hotels and resorts.
Improve training and the offer to surprise and retain visitors
For Javier García, Vice President of Magic Costa Blanca, "It is essential to continue to offer visitors, both domestic and international, new proposals that enhance their holiday experience, while equipping our team with more skills that enhance their careers. Having this renowned and meditative chef is an innovative way to expand your knowledge and techniques."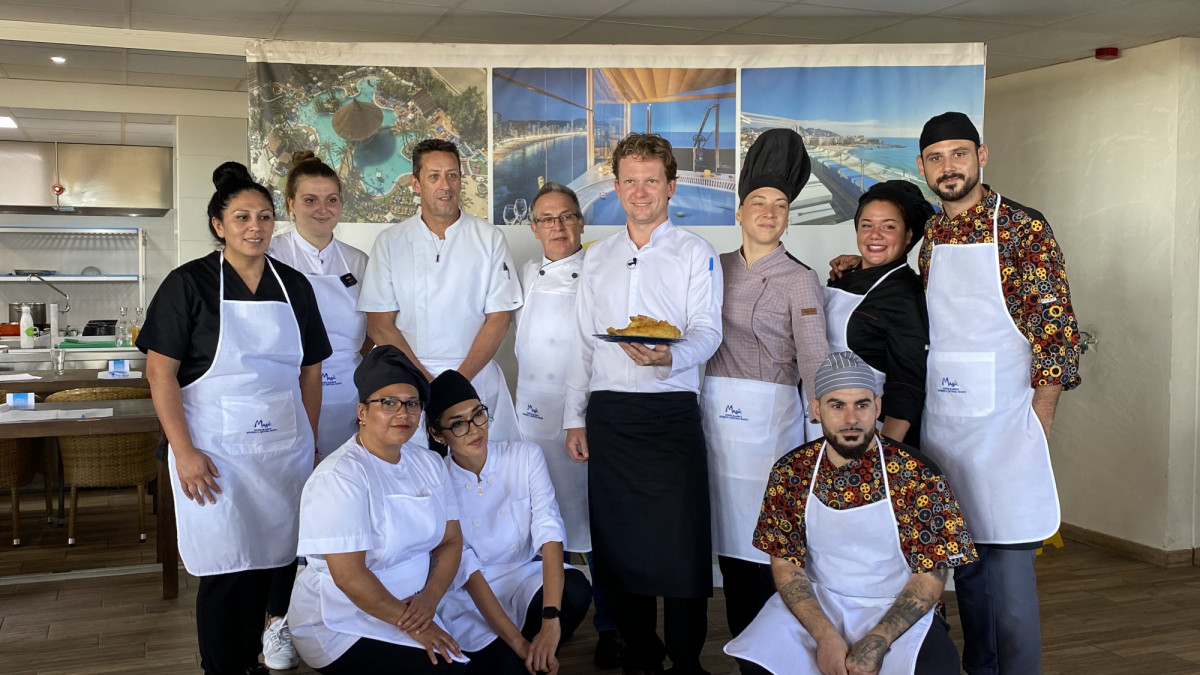 .