Christmas is the time of year kids enjoy the most, and not only are they usually free from school, but they know they'll be getting a special visit that will grant many of their wishes. However, mums and dads also really appreciate these days: we can spend a lot of time with the little ones in the family. Want to cook with the kids? we propose Christmas appetizer or snack recipes easy and simple to prepare. In the kitchen!
The recipes for starters or homemade canapés that we offer below contain ingredients that are easy to find in any grocery store (you may even have some already at home) and their preparation is very simple. Cooking as a family, especially when it comes to christmas recipesis a beautiful plan that allows us to share quality moments.
Santa's Boots is the name of the first appetizer we want to show you. The ingredients you are going to need to cook these delicious boots with the kids are:
Sausages
Chopsticks
Philadelphia cheese
Surely you already have a lot of these ingredients at home, so let's see how to prepare these boots in a few simple steps. To start, we are going to cut the ends of the sausages and we are going to join them using a toothpick; You will see that the boot shape is already made. And now we only have to remove the upper part to give them the typical white touch of Santa's boots.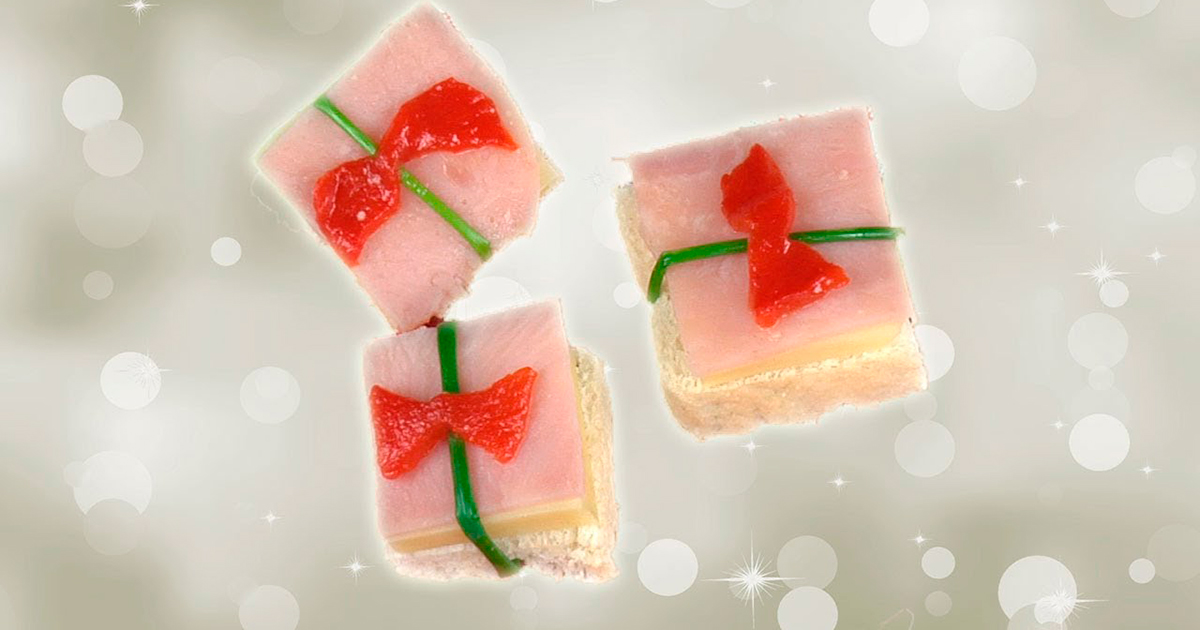 Children always love gifts and these, for sure, will do more. To prepare this Christmas sandwich you will need these ingredients that are so easy to cook:
chive
Red pepper
York ham
Cheese
Sandwich bread or tinned bread
When you have the ingredients ready, we will start assembling our gift canapes. To do this, the first thing is to cut the sliced ​​bread into more or less small squares according to your desires. So, we cut the cheese and the ham the same size and we unite everything with the chives. Finally, just cut the red pepper into very small triangles and place them on top of the gift. Merry Christmas!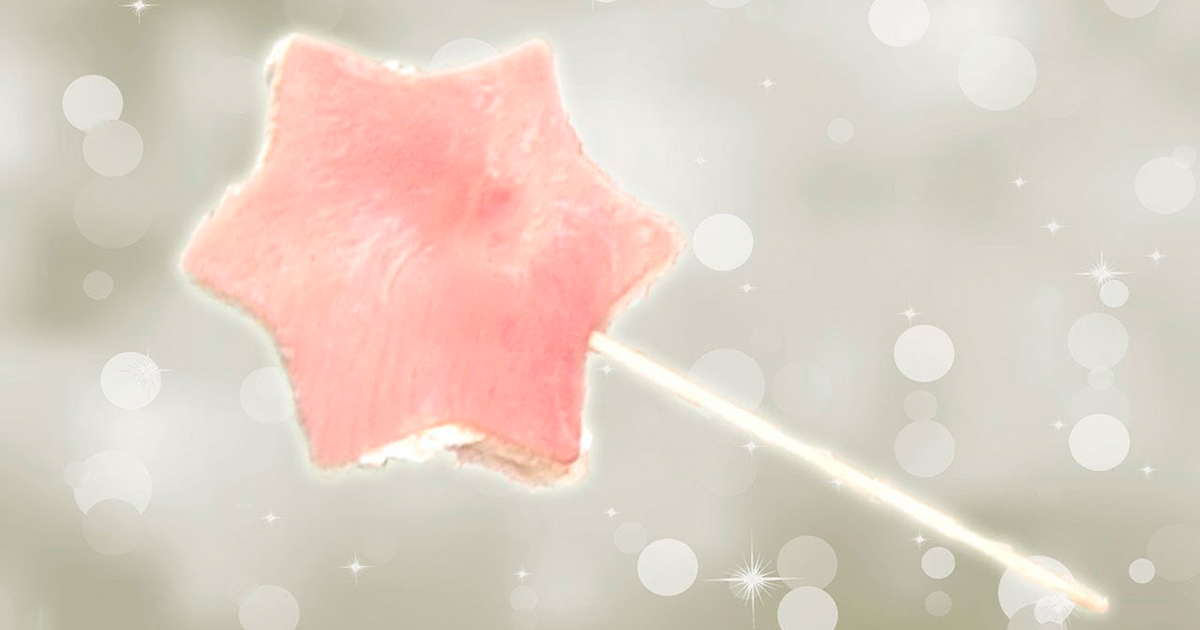 The star skewers are also very easy to prepare, so you can cook with the kids (provided you have the appropriate precautions). In this case, the ingredients for our Christmas sandwich are:
Sweet ham or york
soft bread
Philadelphia cheese
In this case, we will also need a star-shaped mold shape the appetizer and make sure we all end up the same. Once everything is ready, it's time to start preparing your star skewers. To do this, simply cut the bread and ham in the shape of a star. Then, spread the cheese on the bread and place the ham on it. And all you have to do is attach it with a toothpick.
The ingredients you are going to need to prepare this Christmas appetizer for the whole family are:
small tartlets
Crab sticks
Mayonnaise
Mashed potatoes
Parsley
Do you already have them ready? Well, let's see how to prepare the Christmas tree tartlet. As you will soon see, this is a perfect starter recipe for Christmas Eve or New Year's Eve dinner.
To start, you need to put the puree in a cup and mix it with mayonnaise. You have to make sure that the mixture is well done so that one ingredient does not stand out more than another. Next, we will cut the crab sticks into very small squares and add them to the mash. Mix well again and use this mixture to garnish the tartlets. Finally, we only have to put a little parsley on top. How delicious are all these Christmas recipes.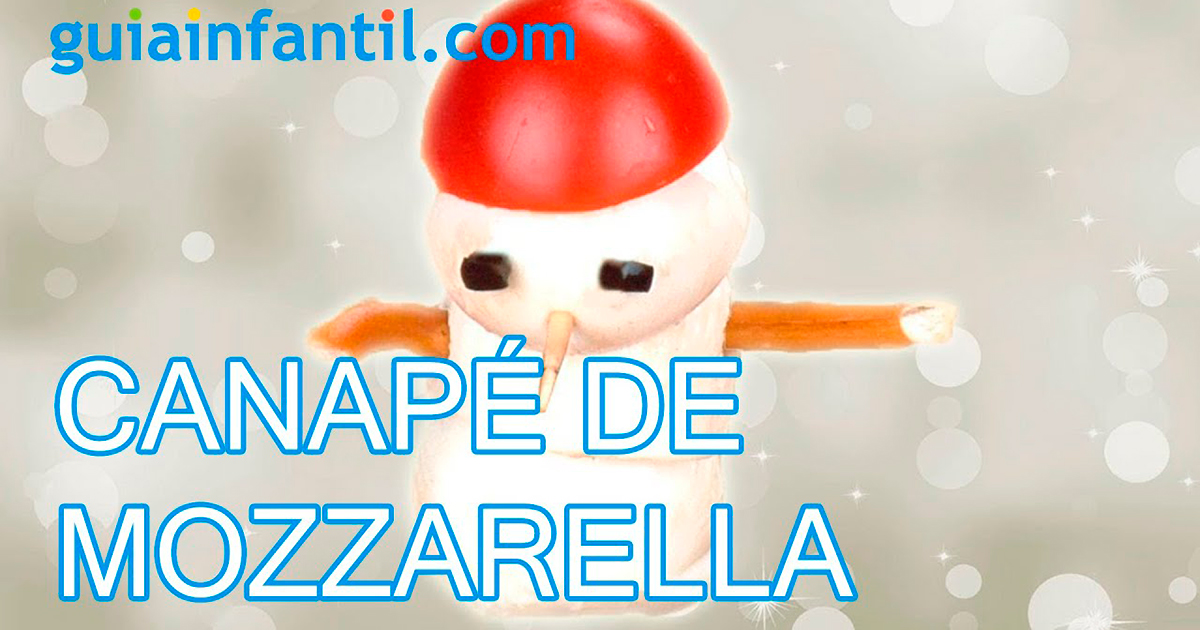 To prepare the mozzarella snowman as a Christmas sandwich, you will only need the ingredients we list:
black olives
tomato pear
mozzarella balls
pretzels
Carrot
We'll start by joining three balls of mozzarella cheese together with a toothpick. Next, we will cut off the top of a pear tomato which we will add to the doll as if it were a small hat. Next, we will cut the olives into very small pieces, which we will use for the eyes. And now all we have to do is add the pretzels as little arms and the carrot as a nose. simple and fast, a Christmas aperitif that will delight children.
[Leer +: Entrantes para cocinar con niños]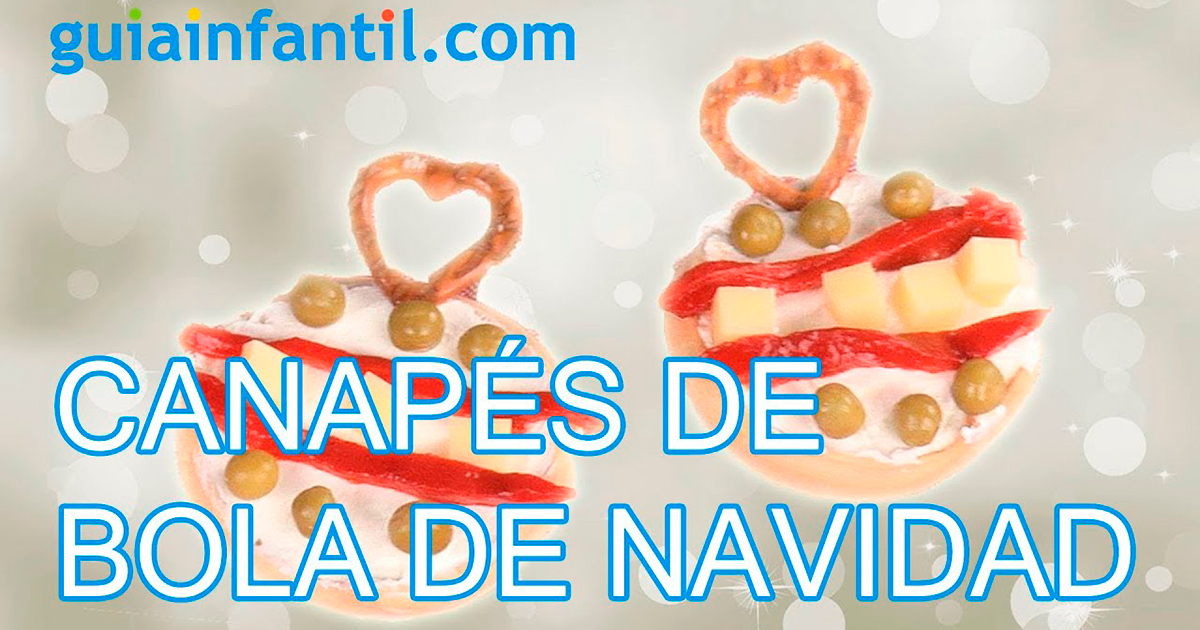 The ingredients needed for the Christmas balls as a snack or starter are:
green peas
Red pepper
pretzels
small tartlets
Philadelphia cheese
Ripened cheese
Cooking Christmas balls as a starter for children is much easier than it seems. To start, we just have to fill the tarts with the Philadelphia cheese and then add the strips of red pepper on top. When we have it, we add small cubes of aged cheese and a few peas on top. And, to decorate, we put a small pretzel.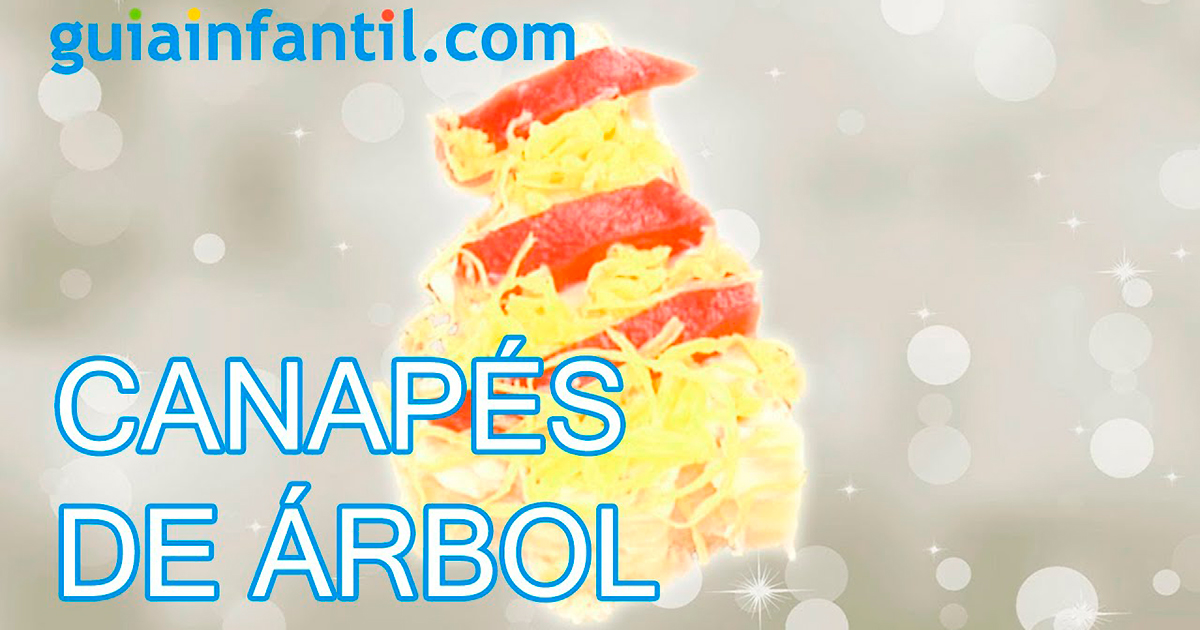 To make the Christmas tree with tortilla we will need the following ingredients. It is a very tasty aperitif because
Potato omelet
Egg Yarn
Mayonnaise
Red pepper
We will start by cutting the potato omelet in the shape of a tree, using a mold to help us. Then we will spread it with a little mayonnaise and decorate it with strips of red pepper. Finally we add the overturned egg and we will have it ready to taste.
[Leer +: Celebrar la Navidad en familia]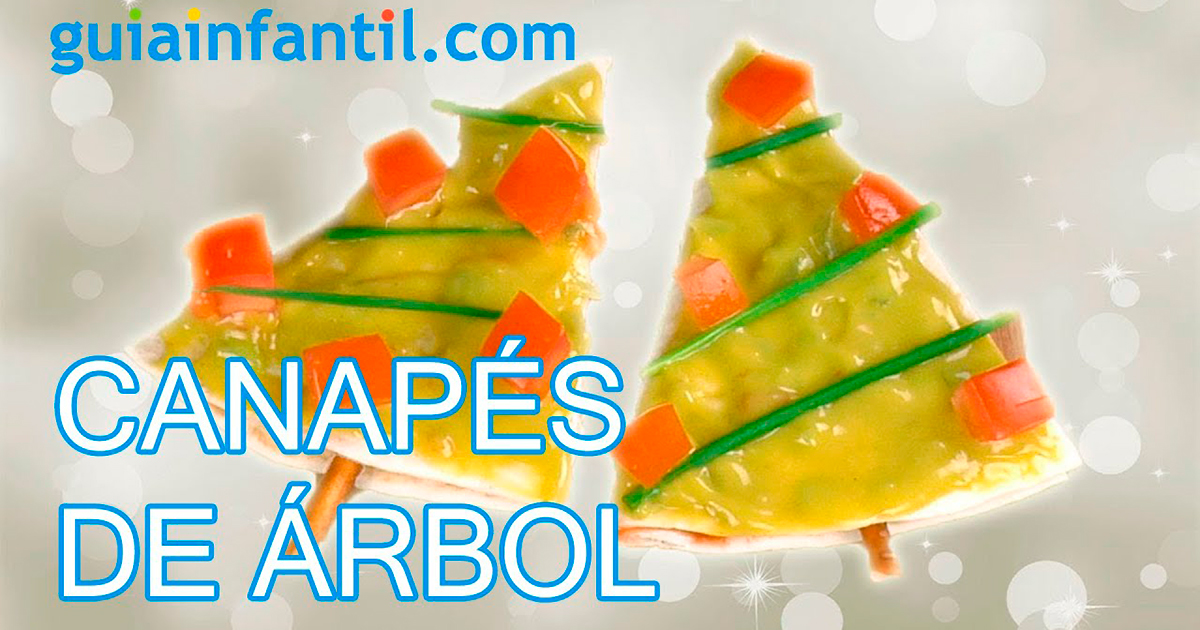 If you choose to make the Mexican Christmas tree, the ingredients we will need are a little different than the tortilla tree. In this case, they are:
pita bread
cut tomato
Fried tomato
guacamole
pretzels
chive
When you already have the ingredients ready, we'll start assembling the trees. To do this, we will fold the pita bread and cut it in the shape of a tree, but it can be opened in half. Then we will add the fried tomato and fold it to close. At the top, we're going to put the guacamole and the diced tomato and, finally, we add the chives as decoration.
The star sofa will, for sure, be one of the most popular with children. To prepare it, you will need to have the following ingredients on hand:
olives
Sweet ham
sliced ​​cheese
Bread box
Egg Yarn
The first thing we're going to do is cut the bread into a star shape help us with a mold if you have it. Next, we will also cut the York ham and place it on the sliced ​​bread. And, we repeat the same step with the spun egg. Finally, we only have to add a few small pieces of olive on top.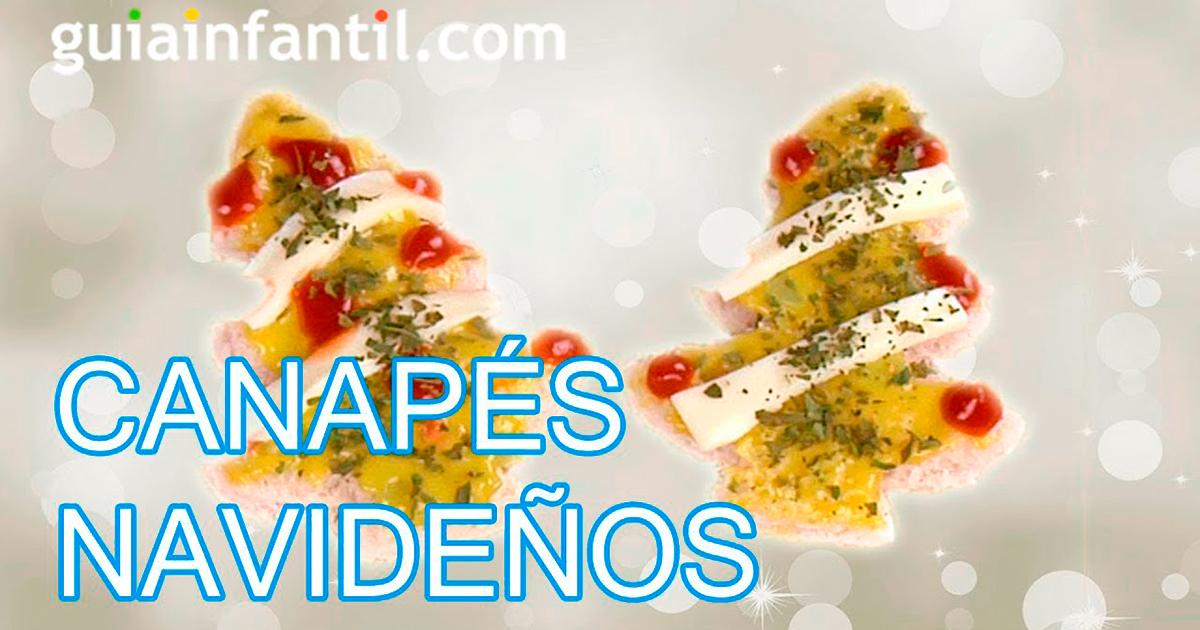 To make the Christmas tree with guacamole you will need the following ingredients:
guacamole
Ketchup
Sandwich loaf or sandwich bread
cheese sandwich
Parsley
We will start our Christmas tree by cutting the bread in the shape of a tree. Then we will spread it with the guacamole and add cheese strips on top. Then, we will use the ketchup to make the pompoms and we will add parsley on top to decorate it.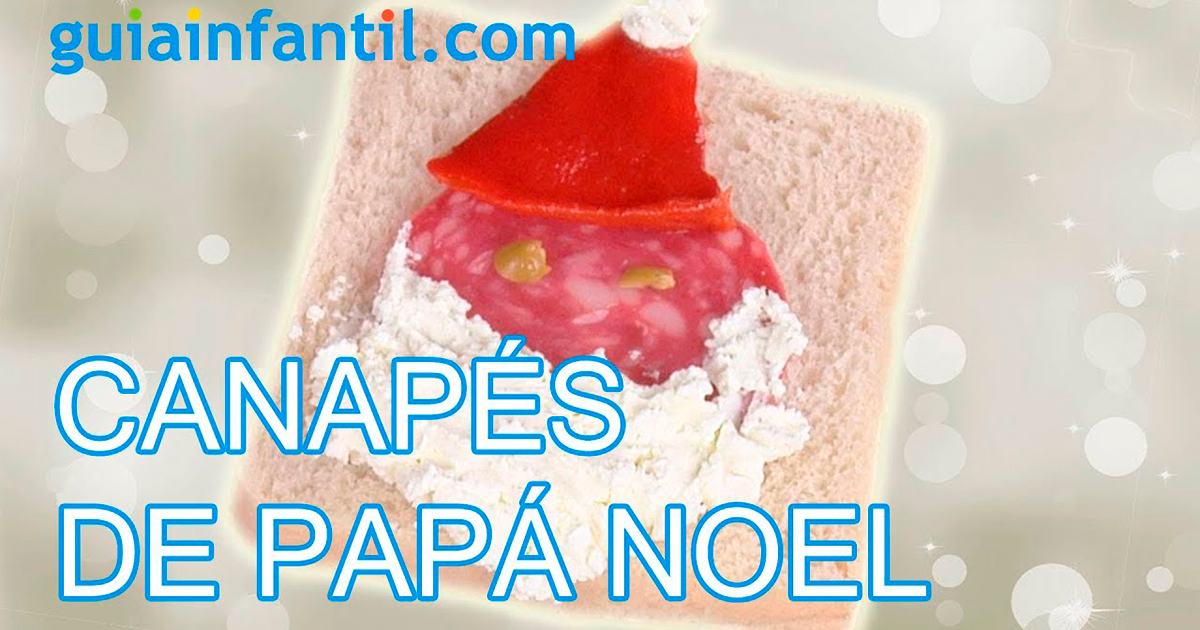 Finally, to make the Santa Claus toast, you will need to have the following ingredients on hand:
soft bread
Sausage
olives
Red pepper
Philadelphia cheese
The first thing we are going to do to prepare this toast is to put a slice of sausage on the sliced ​​bread. We will add a triangle of red pepper on top to remind us of Santa's hat and then we will spread the Philadelphia cheese on the back, as if it were the beard. Finally, we just have to add a piece of olive on the sausage which will be the eyes of our Santa Claus Christmas Sandwich.
As you can see, there are plenty of starters and canapés that you can make at home with the kids. Not only will you have a great time with your family, but you can also surprise your guests with your tasty Christmas snacks. And your children so happy to have been part of it.
You can read more similar articles at 11 easy Christmas sandwich recipes to cook with the kidsin the Recipes category of Guiainfantil.com.